Senior Coach
Netherlands, EU.
Naughty by nature, caring and a passionate lover of life!
Rick is highly skilled in the art of cooking, traveled the world a successful DJ and now an educated professional Coach. His journey in search of beauty took him to all corners of the world. He lives his life with passion and helps others to accomplish the same freedom in life he experiences.
At the end of a long relationship that was crumbling away
Rick got into the game of life and started self-development. Knowing he wasn't quite the man he could and should be, he frantically started working on improving in all areas (inner/outer game).
As he grew to new heights the process of personal growth enlightened him and he became a completely different person. He couldn't save his relationship in the end but he came out a stronger person like ever before.
He now finds the relationship building process one of the most intriguing phases of human interaction and uses his life experience to help his students set as strong frame possible to build their future relationships on.
"I do what I want, how I want it, when I want it and with whom I want it…and I am not afraid to throw that on the table! In this way the lady knows exactly who she is dealing with, which provides her with all the security she naturally craves… and women LOVE me for that! – Rick Dutch"
As a lover of Latin dances he is no stranger to the dance floor and the way he physically leads women through a sensual dance trip is an absolute delight for any women, as he literally sweeps them off their feet!
Because of this Rick is very well skilled in one of the things most men have a huge challenge with… physically escalating. Rick excels at teaching men how to get physical in a way that's both comfortable for the women as it is for them! Because of this he is looked at as being a specialist in this particular area.
Join Rick Live Weekly - Discussing #BouncingBack
Link here: "Keeping a Relationship Alive"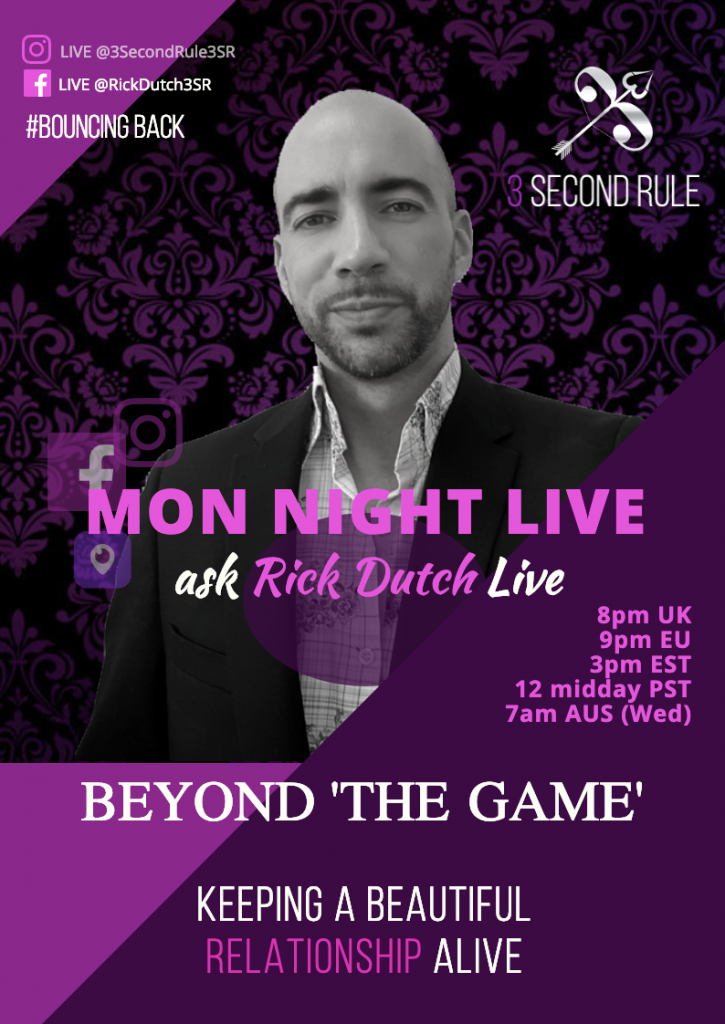 He is also notorious
for being the guy who makes women turn on their wild (bad girl) side as he loves to get them to misbehave. Often described as being "naughty by nature" because of his playful game style and way of interacting with women.  One thing shines through straight away when watching him is the way he has implemented "violation theory" (Mystery speaks often about this). Being completely non needy and not caring about the outcome he loves to push social boundaries to see what will happen, just for the self-pleasure of it.
Beginners in "the game"...
appreciate his caring, relaxed and very down to earth nature while the more advanced gamer enjoys his expert style of challenging and his points of view that always seem to pinpoint certain subtle areas of improvement.
He brings 8 years of experience to the table when it comes to game and helping men grow in this area and he has been a certified Executive Coach and Hypnosis Therapist since 2010 and is a true professional .
His client list up to date consist of:
School Teachers
Restaurant owners
Professional dancers
Students
Divorced men
Men with aspergers syndrome (with huge social challenges)