Want the 'Skills' to Attract Hot Women?
but could never afford Bootcamps Training?
---
an Exclusive - All Star - Master Instructor
'PREMIER' - 4 DAY CAMP ONLY
You can spread your payments over 3-5 months!
Now simply

NO EXCUSES

to finally getting
the skills to Meet & Attract Beautiful Women.
---
P I C K U P - | - D A T I N G - | - S O C I A L
3 SECOND RULE - MASTERS of 'the Game'
present: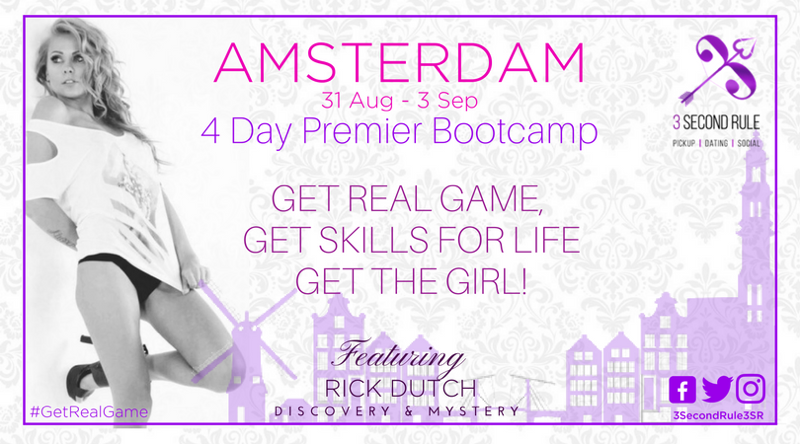 ---
Introduction,
The Greatest Program the Pickup & Dating World has ever seen.
This exclusive, Not 2 day Bootcamp, but 4 day 'FAST TRACK' TOTAL IMMERSION PROGRAM will teach a select few men, the step-by-step theory, tactics and strategies the World's BEST Pick Up Artists are using today. The content that will allow you to, AT WILL, APPROACH, ATTRACT AND KEEP Beautiful Women.
Hosted by Rick Dutch, 3SR's Senior Coach and Top Prized European Pickup Artist
Featuring PUA Master, Discovery, (Mystery's Wing for past 8 years and Master Trainer of over 5000+ men) alongside two 3 Second Rule senior coaches, you will be a part of the entourage for 4 days and nights. With full access to the mind of a professional Pickup and Social Artist, how to think, behave, and handle situations in the day, evening and even business to leverage his surroundings for maximimum Social Value Impact (SVI)
"Discovery is one of the highest and most consistent closers infield I have ever seen, a true Master Pickup Artist. You need to have seen, to appreciate his own personal transformation, amazing!" - MYSTERY
and .... SPECIAL 'MYSTERY' GUEST who simply needs no introduction.
This is a Proven Impact SYSTEM Guaranteeing Rapid results from any starting point. Which when followed, will shave years off the learning time for the Ultimate Success with Beautiful Women and Social Settings.
---
Find, Meet and ATTRACT The Girl You Want!
A blend of Pickup Artistry & Conversational Wizardry as pioneered
by Mystery
& Social Impact & Leveraging, as pioneered
by Discovery.
Specialist Training Camps are capped Infield.
to ensure you get very close attention and have an opportunity.
to both work on your personal sticking points and......
Receive a FREE Personal 1on1 Action Planning session.
with Goals created for you to follow for the 3 months after the Bootcamp.
- All Infield students benefit from a 1on1 Skype Coaching callwithin 1 month post program.
---
***EARLYBIRD & SPECIAL OFFERS AVAILABLE***
SEE 'TICKETS' for Offers
and for first time ever - SPREAD YOUR PAYMENTS!
....over 3 or 5 months
4 days 'interactive' Workshop Training: (Thu, Fri, Sat & Sun)
+ 2 nights LIVE Infield Training & Coaching* (Fri & Sat) (VIP only)
+ FREE Day (€890) Routines & Gambits Workshop (VIP Package only)
+ FREE 90 Day PERSONAL Game Action Planning (VIP only) (€490)
+ FREE Skype Coach Follow up Call (VIP only) (€290)
**SEE FURTHER DOWN FOR SPECIAL OFFERS / Earlybirds
AND.... PAYMENT SPREADER OPTIONS
@@@Dont forget: STUDENTS get 50% off the full price
(email with Student Proof for a 'discount code')
---
Example from the 4 days:
Day 1 - Understanding and Building Attraction
Overview of your Game Experience to date
(Program led by the needs of the group)
Sticking Points (discussed prior to arrival)
(ALL sticking points addressed throughout the weekend both as a group and 1on1)
Overview of Attraction Theory
'No Fail Opening' - a Discovery creation
NEW: OSCA - the SuperFast Attraction model
Practical Delivery - How to make what YOU say - Sound Great!
Learn what Your Bad Habits are that prevent you getting anywhere with Hot Women
Routines and Gambits Prep for the evening
+LIVE INFIELD GAMING AND COACHING*
Day 2 - Challenging, Connecting & Closing
Infield review - Personal Action Planning
A Practical Guide to Understanding Mystery's M3 Attraction Model
Qualifying & Challenging
Intro to Kino - with simple Kino Gambits to use immediately
Creating an Attractive Identity
Practical Role Play and Practise
Closing - Numbers, Same Night Lays and Dates
+LIVE INFIELD GAMING AND COACHING*
- - - EXTRA 2 DAYS - - -
Day 3 - Routines & Gambits Workshop - Never run out of things to say!
Never run out of things to say, ever again!
Knowing Exactly What to Say Will Save You Time, Energy and Money
Post Bootcamp Action Planning with a 90 Day Personal Game Plan*
Personal Feedback on your Game based on Observations
Building your own Personal Stack
Storytelling Exercise (really upload your Value)
How to Create your Own Openers
Opening Gambits
Stimulating Gambits
Captivating Fun Story Gambits
DHV Attraction Gambits
Qualifying Gambits
Emotional Connection Gambits
Physical Escalation Gambits
Closing Gambits
Beyond Gambits - Fun Conversation with NO Gambits
Day 4 - Personal Action Planning - Plan your Work and Work the Plan.
The final day focusses on preparing You to not only keep getting great results with women, but know exactly HOW to continue to grow your new found skills to Approach & Attract long after the Bootcamp is over.
Full Infield Students receive a 1on1 session on Day 4 with a Pro Coach or Master Trainer to review their progress, personal Goals and receive a full 'Personalised 90 Day Game Plan'
---
PAYMENT OPTIONS:
FAQs
Are there ID requirements or an age limit to enter the event?
Min 18yrs for 'Seminar Only' and 21yrs for 'Live Infield' training
What can/can't I bring to the event?
DO Bring smart/casual clothes to go out in each Evening.
DO Bring a Notepad and Pen
DON'T bring recording Equipment (Audio or Visual)
(cell/mobile phones will be checked periodically - if you are suspected of recording without permission,
you will be asked to immediately leave the program).
Where can I contact the organizer with any questions?
Program Manager: Sebastian@3secondrule.co.uk
Master Trainer: Discovery@3SecondRule.co.uk

Contact Sebastian:
Sebastian Gold (3SR Program Exec) now for more info,
a relaxed chat and we are sure to find a Program / Training Package to fit your budget and time
---
Want more info on the Best Package for you?
Schedule a Call with one of the 3SR coaches (they've been were you have!)